References for peg-jumping and Non-Transitive Dice
Links for peg Jumping
Links for non-transitive dice
Effron's Dice
---

---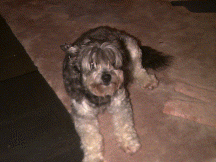 My Favorite Animal
---

92.43% of the statistics used in arguments are made up.

---
Selected Publications
---
---

Visit a few of my other pages
Try a Javascript simulation of a random walk along a line
See an animated display of the last game between Gary Kasparov and IBM's DeepBlue.
Try out the Euclidean Algorithm for finding the greatest common divisor of two integers.
---
Useful Stuff - Calulator and Equation Solver
---
Try out my
This was the Geek Site of theDay
February, 1996

Thanks to Scott Ruthfield
And also,

As well as being,

a CLICK Cool Site.
And in addition,

a Hotsheet WEB Quick link.
---
---
The 1995 USC High School Math Contest.
You can also view animated solutions to our 1993 High School Contest.
Note that both of these pages require Javascript on Netscape 3.0 or better.



---
---
---
---
---
---
---
Math 776 Main Page
---
Math 580 Main Page
---
Math 241 Main Page
Old Discrete Comprehensive Exams
Discrete Comprehensive 1989
Discrete Comprehensive 1990
---
Wendy's Party
---
---