Peter J. Nyikos
Professor, Dept. of Mathematics, USC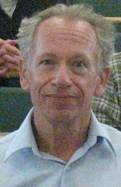 This picture was taken at the 2008 Galway Colloquium.
Some other recent photos of me and many of my fellow topologists can be found at J. Vaughan's seminar page.
You can also watch me delivering a talk on limits in several variables on YouTube.
This was one of a series of lectures in higher mathematics known as the Carolina Math Seminar.
Another lecture on the same occasion was given by one of my former Ph.D. students, Laszlo Zsilinszky (1998).
---
Ph.D., Carnegie-Mellon University, 1971 Research interests include: point-set topology, especially covering and base properties of regular spaces, and the structure theory of locally compact spaces; the application of special axioms from set theory to constructing examples and establishing consistency and independence results; and applications of point-set topology, especially to Boolean algebras and functional analysis.

Click here for a slightly longer description of some of my research interests.
---
My Curriculum Vitae
in pdf form

---
Publications
---
Course Information
Since the pandemic began, my communications with my classes have been via Blackboard. The course descriptions that are linked below have not changed significantly, although the day to day schedules and timing of homework, quizzes, and tests have varied, of course.