Homework Problems for Chapter 2
The Vector Space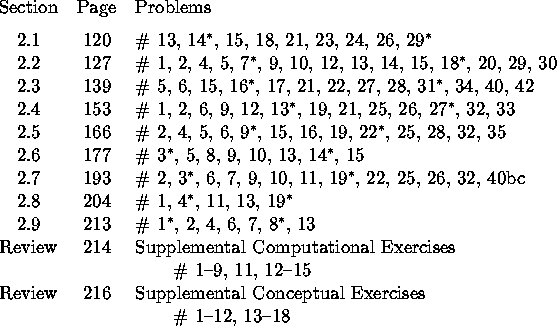 Problems marked with an asterisk ( ) will be collected and graded. In general, problems will be due the day following the lecture in which the section was discussed.
The selected problems require a mixture of computation and theory to answer. In most cases the problems are not difficult once the question is identified and understood. The key to this is a thorough understanding of the vocabulary and various connections between the concepts.
If you need more practice, there are many other problems in the text that are similar to the ones I have assigned.
There are two sections of review problems at the end of each chapter. None of these problems will be collected for grading. These problems should be a good test of your understanding of the main points in the chapter. I suggest solving these problems as one part of your preparation for an exam.
Be sure you know how to do all of these problems. Do not hesitate to ask questions - in class, by e-mail, or during office hours.
---
---
Douglas B. Meade
Fri Sep 6 11:16:18 EDT 1996